Higher Education in Wayne County
Earlham College

Founded by the Religious Society of Friends (Quakers) in 1847, Earlham College is a distinguished liberal arts college drawing students from 42 states and 81 foreign countries. Among the nation's academically strongest liberal arts colleges, it boasts programs of particular renown in the sciences, humanities and peace and global studies. Earlham is consistently ranked as one of the nation's top colleges for undergraduate study abroad.
The college has one of only three U.S.-based Japan information centers and also offers programs and consulting services for companies seeking to establish business contacts in Japan and the Pacific Rim.
www.earlham.edu
---
Indiana University East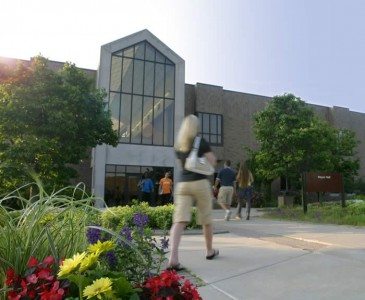 IU East offers all of the advantages of an Indiana University education and a degree that is respected throughout Indiana, the nation, and the world. IU East offers over 50 Indiana University bachelor's and master's degree programs in social and behavioral sciences, arts and humanities, business, nursing, education, and technical and professional fields. Students at IU East will find all the services and opportunities of a large university combined with the advantages and atmosphere of a small college.
IU East is one of eight campuses of Indiana University. The university also offers programs at its regional centers in New Castle, Connersville and Lawrenceburg. Several online degree completion programs are also available.
More than 95 percent of our alumni stay in the region to live and work.
www.iue.edu
---
Ivy Tech Community College
A statewide, open-access, community college, Ivy Tech Community College provides residents of Indiana with professional and technical degrees as well as the lifelong training needed for successful careers, personal development, and active citizenship. Through its affordable, quality educational programs and services, the College strengthens Indiana's economy and enhances its cultural development.
Ivy Tech offers a variety of programs for students as well as short term programs and training services available on demand for immediate upgrade of skills and industry related certification opportunities.
www.ivytech.edu/richmond
---
Purdue Polytechnic – Richmond
Purdue Polytechnic is engaged with business and industry in numerous ways. Purdue offers certificate and degree programs to support apprenticeship and professional development programs. Purdue Polytechnic can also deliver tailored training or credit coursework at business sites and can provide onsite registration support.
In addition to the traditional classroom setting, some courses may also be taken online, through streaming video, and during accelerated weekend formats. The university's expertise is available through local faculty and students, as well as through its Technical Assistance Program (TAP). TAP provides technical and organizational help (gratis and contracted), as well as placement of summer interns. Partnered research projects can also be coordinated through the local Purdue Polytechnic – Richmond office.
www.polytechnic.purdue.edu/Richmond
---
Bethany Theological Seminary
Bethany Theological Seminary is the only theological school and academy for the Church of the Brethren. The school was founded in Chicago in 1905 and later moved to Richmond, Indiana as an affiliate of Earlham College, both are schools founded by historic "peace churches" (Brethren and Quaker).
For over 100 years, the theological seminary has been offering Master of Divinity degrees and undergraduate training with a current focus on peace studies and youth/young adult ministries.
www.bethanyseminary.edu
---
---
Area College Enrollment & Graduates
Fall 2016 Enrollment
| College | Undergrad | Graduate |
| --- | --- | --- |
| Ball State University* | 17,011 | 4,987 |
| Earlham College | 1,031 | 69 |
| Indiana University East | 4,287 | 192 |
| Ivy Tech Community College | 2,341 | N/A |
| Miami University of Ohio** | 16,981 | 2,716 |
| Purdue Polytechnic-Richmond | 74 | N/A |
| Total | 41,725 | 7,964 |
*Located 44 miles Northwest of Richmond
**Located 28 miles Southwest of Richmond
Bachelor Degrees Awarded by Area Colleges
| Degree Field | 13-14 | 14-15 | 15-16 |
| --- | --- | --- | --- |
| Liberal Arts and Science | 3,250 | 2,951 | 1,565 |
| Education | 726 | 920 | 623 |
| Natural Sciences | 695 | 642 | 599 |
| Fine Arts | 414 | 473 | 304 |
| Mathematics | 89 | 109 | 93 |
| Computer Science | 88 | 95 | 128 |
| Nursing | 380 | 303 | 730 |
| Business Administration | 1,761 | 1,905 | 2,033 |
| Behavioral Sciences | 747 | 739 | 1,412 |
Source: University Registrar Offices
Ball State University, Earlham College,
Indiana University East, Miami University
Purdue Polytechnic – Richmond Degrees/Certificates Awarded
Degree Field
13-14
14-15
15-16
Bachelor Degrees
Industrial Technology
1
3
2
Organizational Leadership and Supervision
0
4
2
Computer Graphics Technology
0
4
1
Engineering Technology
3
3
7
Total
4
14
12
Associate Degrees
Computer Graphics Technology
0
0
3
Mechanical Engineering Technology
4
3
4
Organizational Leadership and Supervision
5
2
0
Total
9
5
7
Certificates
Industrial Technology
0
0
1
Organizational Leadership and Supervision
3
0
0
Total
3
0
1
Source: Purdue Polytechnic Registrar Office
Ivy Tech Community College (Richmond) Associate Degrees Awarded
| Concentration | 11-12 | 12-13 | 13-14 |
| --- | --- | --- | --- |
| Accounting | 11 | 15 |  8 |
| Agriculture | 13 | 9 | 13 |
| Business Administration | 43 | 29 | 30 |
| Computer Science | 36 | 14 | 17 |
| Industrial Technology | 15 | 5 | 6 |
| Medical Assisting | 68 | 59 | 51 |
| Nursing (ASN) | 53 | 32 | 39 |
| Office Administration | 39 | 25 | 19 |
| Total | 278 | 188 | 183 |
Source: Graduate Profile and Trend Report